Does saving up to 58% off your electric bills excite you? This is possible to achieve with solar power so if you're keen on clean and green energy, this article is just for you! If you're not, it just might change your mind.
Solar power utilises energy from the sun to create electricity that can be tapped into your home, powering your household electric appliances and water heating systems. Even when used to supplement the national electricity grid, solar energy is a great tool for cost effectiveness and high electric bills become a thing of the past.
In addition to cost effectiveness, solar power is great for the environment because the sun does not produce pollution, unlike fossil fuels like coal and petroleum, which release carbon into the atmosphere at dangerous rates. Solar energy is also renewable, meaning its supply can never run out, eclipse or none. Very few energy sources feature all these benefits and Rafiki Roofing has partnered with SOLE Eurostar ECO to provide solar panels, tanks and systems just for you! Read more here
Be in direct connection with the sun and save up to Ksh. 1 million in 18 years!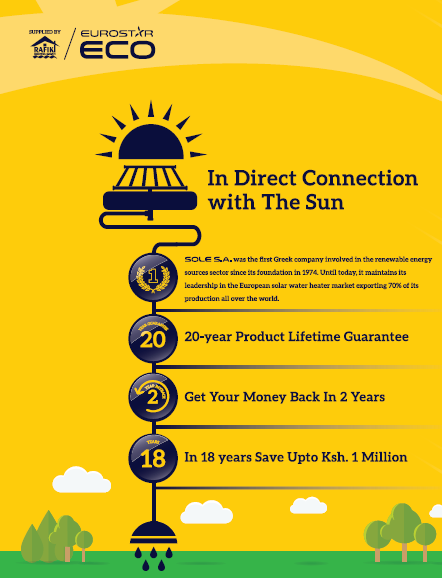 Let's keep it clean and green.